You Can't Control How Some People Will Treat You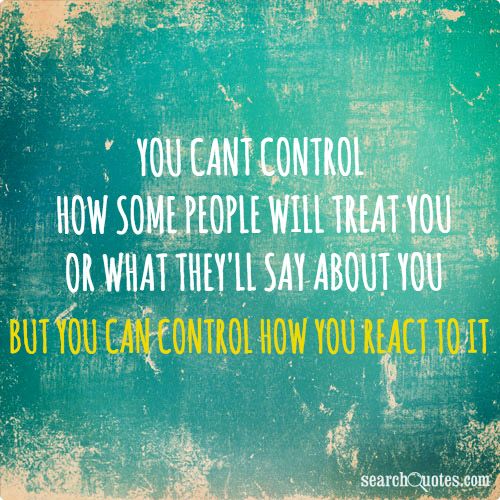 You can't control how some people will treat you or what they'll say about you. But you can control how you react to it.
As we live each day we have to remember that in life there will be people that will hate us and mock us for reasons unknown to us and that we will never understand. There are also going to be people in our lives that will love us unconditionally for whatever we do, or however we grow. Sometimes people will enter our lives that want to follow our lead, and see something in us that that they desire for themselves.
The fact of the matter is, we can't always control how other people will feel about us in life. We can do our best to promote peace and love, but this doesn't guarantee that everyone will receive us as who we may desire for them to receive us as. This fact of life is guaranteed, and that is okay. Live your life, love as much as you can, and stand for something that will make this world better before and after you leave it!
Source: here.
Posting Disclaimer Notice:
This posting is not my own creation collection. My effort is copy paste only. I got it from internet posted by someone else. I'm just saving some time for you to avoid searching everywhere. I'm not violating any copy rights law or not any illegal action which I'm not supposed to do. If anything is against law please notify me so that it can be removed.