A Relationship Without Trust Is Like A Car Without Gas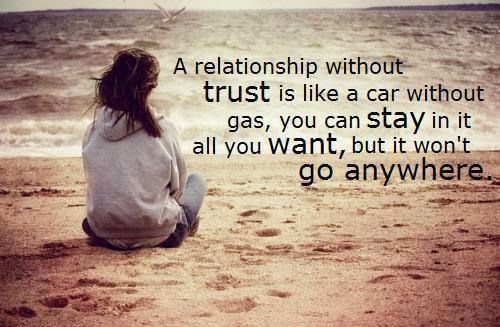 "A relationship without trust is like a car without gas, you can stay in it all you want, but it won't go anywhere."
One important part of learning about who we are as people is finding a significant other who truly completes us. Though not everyone believes that someone is out there for them that may fit perfectly into their life, but this belief is really necessary to make relationships work like they are supposed to.
If we go through a relationship with someone and are never able to work towards giving them our full trust, then the chances of that relationship working are slim to none. Nobody is perfect, and there are going to be times in the relationship in which both participants may feel played by the other's actions.
Learning to trust is hard for many people, especially those who have been through bad break ups and who have experienced heartache from situations in the past. We must learn to let go and have faith in our partners, because it is only with strong faith that a relationship can last forever!
Source: here.
Posting Disclaimer Notice:
This posting is not my own creation collection. My effort is copy paste only. I got it from internet posted by someone else. I'm just saving some time for you to avoid searching everywhere. I'm not violating any copy rights law or not any illegal action which I'm not supposed to do. If anything is against law please notify me so that it can be removed.