To Become A New Person And Better Person You Must Love Yourself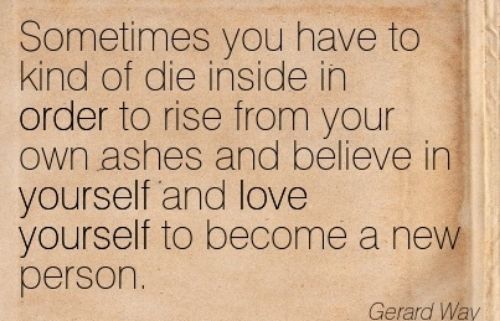 "Sometimes you have to kind of die inside in order to rise from your own ashes and believe in yourself and love yourself to become a new person."
There are some instances in our lives that we will be forced to decide to move on from a situation rather than to hold on to something that will ultimately distract and stop us from achieving what we envisioned for ourselves in life.
To be successful in life, we have to commit to living an active life. Some relationships and other circumstances that are part of our lives now, will weigh us down too much and not allow us to keep progressing forward in life.
One principle we must all remember is that to obtain success, we must be willing to keep moving, even when there are parts of our lives that we always thought were vital arent able to go along with us.
Be willing to let the old parts of you go when the time is right. Only you know what is in your heart, and only you know what is truly holding you back from reaching greatness, make the best decisions for you and for what is in your heart.
Source: here.
Posting Disclaimer Notice:
This posting is not my own creation collection. My effort is copy paste only. I got it from internet posted by someone else. I'm just saving some time for you to avoid searching everywhere. I'm not violating any copy rights law or not any illegal action which I'm not supposed to do. If anything is against law please notify me so that it can be removed.