Success In Life Is Not About Luck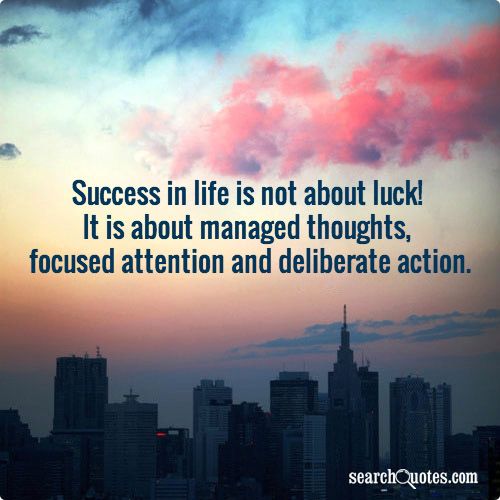 "Success in life is not about luck! It is about managed thoughts, focused attention and deliberate action."
Many successful people know that real success, success that sustains itself for long periods of time, is never determined by luck. Sure, every once in a while someone will get lucky and become sort of instantly successful. But one must come to realize that real success has to be proven over and over again.
An occasional break here and there is healthy for life, and for the balance of positive and negative in this crazy world, but we mustn't confuse a break with the work that we definitely have to put in to maintain success over long periods of time. Time will show if a persons success is true or not, as life throws its daggers, one must be able to avoid them promptly, because for some, taking a dagger means that failure may just be lurking near.
Prepare, plan, work hard, accomplish, use your accomplishments to help the world. Anything outside of that plan that adds to it just may be luck.
Source: here.
Posting Disclaimer Notice:
This posting is not my own creation collection. My effort is copy paste only. I got it from internet posted by someone else. I'm just saving some time for you to avoid searching everywhere. I'm not violating any copy rights law or not any illegal action which I'm not supposed to do. If anything is against law please notify me so that it can be removed.