Always Trust Your First Gut Instincts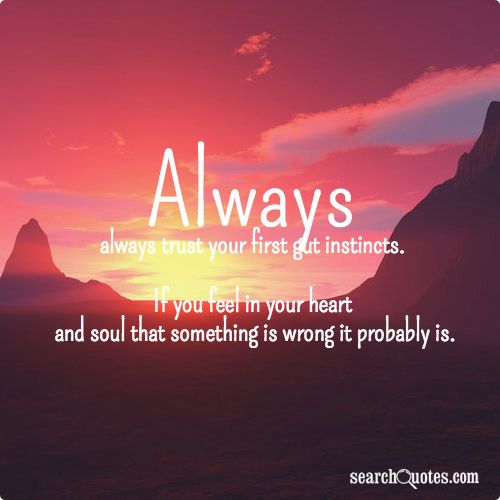 "Always, always trust your first gut instincts. If you feel in your heart and soul that something is wrong it probably is… "
When our spirit speaks it is important that we listen. A lot of times we will hear God tell us to let go of things that are only weighing us down, and we must be willing to exercise the free will we have to make the correct decision no matter how far we think it may set us back in the moment.
Learning when to trust your intuition comes harder for some than others, but it is a principle of wisdom that we all need to learn to apply in our lives as it is very helpful in almost all situations. Sometimes trusting your intuition over everything else can help to save you from experiencing painful circumstances, and save you from trouble that can easily swallow you whole. Many times we know what is best for our own lives, we just have to be confident enough in our intuition to make the right decisions.
Source: here.
Posting Disclaimer Notice:
This posting is not my own creation collection. My effort is copy paste only. I got it from internet posted by someone else. I'm just saving some time for you to avoid searching everywhere. I'm not violating any copy rights law or not any illegal action which I'm not supposed to do. If anything is against law please notify me so that it can be removed.