Stay Away From People Who Talk Bad Daily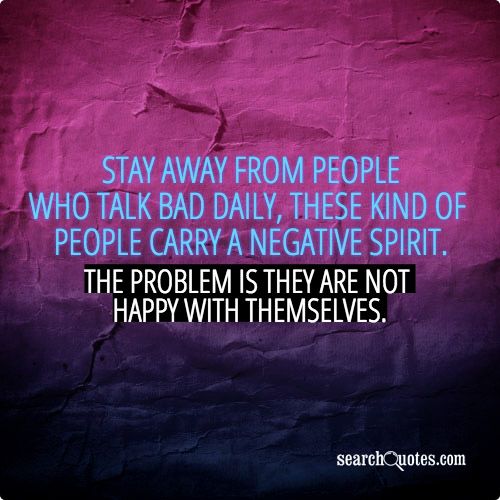 "Stay away from people who talk bad daily, these kind of people carry a negative spirit. The problem is they are not happy with themselves."
In becoming who we are as a person we have to be willing to shake away from the judgment that we think we will see from others from being who we are. One thing about life is, there will be people that enter into your life, even at a distance, who will make no effort to get to know you, but will instead just choose not to like you.
There are always people in life that will attempt belittle you, and whether they learn to grow to love you or not should never be in the forefront of your thinking. Let others be who they are, while you are who you are.
If the time comes to live in a tense confrontational situation, make the best of it, and think of your adversaries as nothing more than enemies who have no reason to be offended by you, as enemies without rhyme or reason, enemies who have no sense of real sanity in this crazy world.
Source: here.
Posting Disclaimer Notice:
This posting is not my own creation collection. My effort is copy paste only. I got it from internet posted by someone else. I'm just saving some time for you to avoid searching everywhere. I'm not violating any copy rights law or not any illegal action which I'm not supposed to do. If anything is against law please notify me so that it can be removed.