Sometimes You Find Yourself In The Middle of Nowhere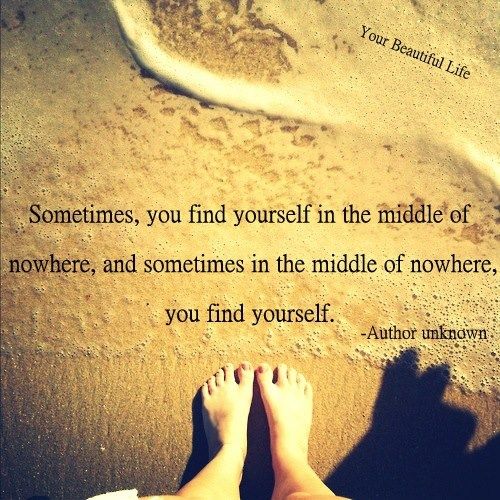 "Sometimes you find yourself in the middle of nowhere, and sometimes in the middle of nowhere, you find yourself."
Finding yourself is a long journey for some, and a shorter journey for others, and one must always be willing to reinvent and find out more about his or her self after each accomplishment. In an effort to find yourself, try out different things, notice what habits you have, and try to figure out the things in life that you are truly passionate about.
When you finally find this passion, try to develop it, and make it what you do. A dream is nothing if a person isn't willing to act on it, so go for them, and never stop dreaming and reaching for them for the rest of your lifetime.
We must first say to ourselves, "who are you" and then we must act according to who we figure out we really are.
Source: here.
Posting Disclaimer Notice:
This posting is not my own creation collection. My effort is copy paste only. I got it from internet posted by someone else. I'm just saving some time for you to avoid searching everywhere. I'm not violating any copy rights law or not any illegal action which I'm not supposed to do. If anything is against law please notify me so that it can be removed.