Do Not Let The Opinions of Others Consume You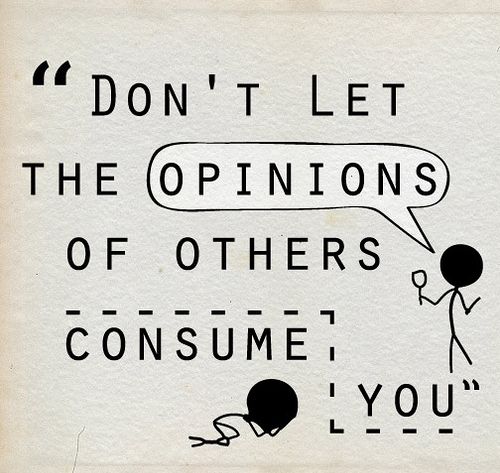 "Do not let the opinions of others consume you."
When we choose to let the opinions of others matter too much to us, then we are choosing to let their opinions consume us. Instead of living your life worried about what others may think or feel about what you are doing, live your life to the best of your ability, with the things that are in your heart and not someone else's heart.
One thing we must all learn in life is that the more that we are productive, and the more that our light and our soul is shown to the world, there are always going to be those who will speak against us, even if most times they have no justification or right to do so.
Any time there is a positive force of production in the world, there will be negative forces to try to stop, by speaking against it, and trying to persuade it in any way possible to stop. Never let the opinions of others consume you, live your life, and live to be as great as you possibly may become.
Source: here.
Posting Disclaimer Notice:
This posting is not my own creation collection. My effort is copy paste only. I got it from internet posted by someone else. I'm just saving some time for you to avoid searching everywhere. I'm not violating any copy rights law or not any illegal action which I'm not supposed to do. If anything is against law please notify me so that it can be removed.