Be Careful With Your Words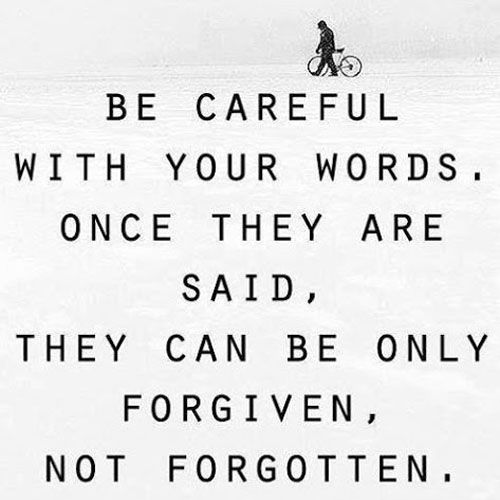 "Be careful with your words. Once they are said, they can be only forgiven, not forgotten."
The powers in our words are very powerful despite what people choose to realize. Many times we speak without even thinking about we are saying until we actually utter the words, and some speak without any concern of the words they speak because they feel as though words have no power or influence.
We have to come to terms with the fact that the words we speak are like other energies because they definitely cause a reaction. If we choose to help mold someone with negative words, chances are if they receive our negative attitudes, negative effects will more than likely be produced by this person in the world. But, on the other hand, if we choose to speak positive words, and encourage others to think positive about life, the effect this person will have on the world has an increased chance of being positive. Think about what you say, because what you say will eventually have a reaction.
Source: here.
Posting Disclaimer Notice:
This posting is not my own creation collection. My effort is copy paste only. I got it from internet posted by someone else. I'm just saving some time for you to avoid searching everywhere. I'm not violating any copy rights law or not any illegal action which I'm not supposed to do. If anything is against law please notify me so that it can be removed.