If You Doubt Anything, Doubt Your Limitations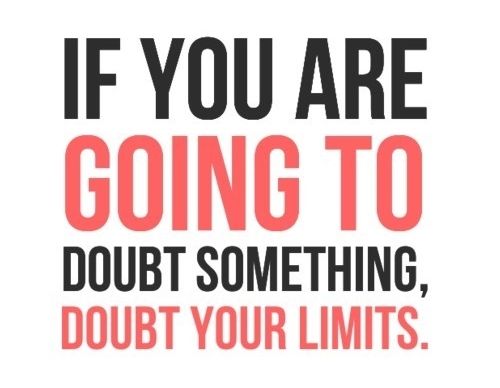 "If you are going to doubt something, doubt your limitations."
There will always be that small voice that the Bible itself calls the voice of the accuser that you will hear in an effort to get you to doubt yourself. The greatest people to ever have walked this Earth are those who were willing to do what their own thoughts argued against them doing.
Whatever it is in your spirit that you know God has destined for you to do, is a must for you to follow after, no matter what limiting thoughts your mind tries to hit you with.
You are somebody, you have a purpose, and whether or not you fulfill your God given purpose is really all up to you. When you limit your beliefs, and when you limit the risks in life that you are willing to take, you don't just protect yourself from failure, but you will also limit yourself from success as well.
Source: here.
Posting Disclaimer Notice:
This posting is not my own creation collection. My effort is copy paste only. I got it from internet posted by someone else. I'm just saving some time for you to avoid searching everywhere. I'm not violating any copy rights law or not any illegal action which I'm not supposed to do. If anything is against law please notify me so that it can be removed.