Never Stop Doing Your Best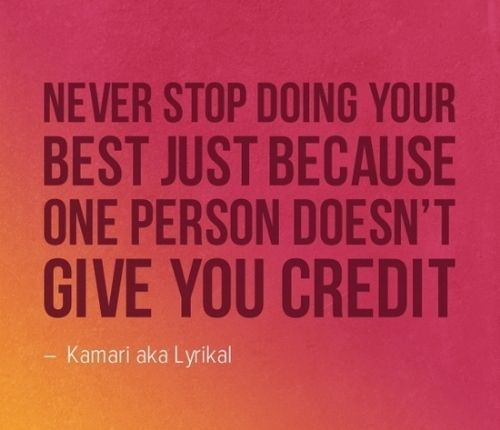 "Never stop doing your best just because one person doesn't give you credit."
As we proceed on our daily journeys through life, it is important that we remain encouraged despite if we feel that we are getting enough credit for the things we feel as we do right. When we think about the big picture of life, we realize that everything we do represents our life story in at least some way. Though it is common to get discouraged when we feel as though we aren't receiving the recognition we deserve, we have to fight against these negative ways of thinking, and continue to push forward anyway.
We all desire to be loved and accepted especially when we are working very hard. But as we learn more and more about life and it's lessons it is easy to see that it should never be our aim to receive recognition from other men, it is only our duty to excel in what we do no matter who sees.
Source: here.
Posting Disclaimer Notice: This posting is not my own creation collection. My effort is copy paste only. I got it from internet posted by someone else. I'm just saving some time for you to avoid searching everywhere. I'm not violating any copy rights law or not any illegal action which I'm not supposed to do. If anything is against law please notify me so that it can be removed.